Madagascar Minerals® Gem Show 2018 - Jan 19 - Feb 12



Dear Valued Gem and Mineral Industry Friend,
With the Tucson Show getting started soon, we wanted to send you a glimpse of what we have going on.
This year has been extremely eventful with respect to our mining operations in Madagascar; you may find the "News Updates" section especially worthwhile to look over. At the bottom of that section are listed four Gem and Mineral Shows which Norcross-Madagascar/NMG will no longer be attending in 2018. New Gift Show obligations conflicted with some of our customary past show dates for 2018. Also, we have relocated our China mainland operations back to Madagascar, as operations in Madagascar are more cost-effective.
As we have done in previous years, we continue to understand many clients may still be conservative in their purchasing habits at Tucson Gem Show 2018. Owing to this situation, during our usual pre-show calling campaign, we received numerous orders from clients who elected not to attend the show this year. If you have not heard from one of our sales representatives to-date, and find yourself in the same category, please contact us at 520-882-8884. You may need new material, but prefer purchasing product in March or April. We want to work with our customers, understand their personal circumstances, and set goals to a successful and prosperous partnership working together.
Our Madagascar Minerals Club discount program is catered toward your individual needs. Should you not be in a position to purchase material at this time, please do not feel any pressure from our sales team, if you receive a call, but do allow our team to update your file. Please keep in mind that Norcross-Madagascar is open (and shipping worldwide) year-round. Our website, www.MadagascarMinerals.com, maintains a dynamic catalog with most of our wholesale products featured, with full discounts published.
During the show, as you purchase products from different vendors, we are happy to consolidate your merchandise, secure it in our warehouse, and ship it on to you. There is no need to be subjected to the inconvenience of leaving your purchased product all around town. With the volume of merchandise we ship, our rates could be significantly lower than you will be quoted elsewhere, and we want to pass that additional savings, and comfort on to you.
This special Tucson Gem Show emailer edition comes to you annually, showcasing more and more products than the previous year. The 2018 Madagascar Minerals Gem, Mineral and Fossil Show will be exhibiting for the 11th year at our upscale Tucson Gallery and Warehouse, part of the Oracle Road Gem Corridor. You will find us at 201 W. Lester Street, AND OUR NEWLY ACQUIRED SHOWROOM ACROSS THE STREET AT 208 W. LESTER two short blocks EAST of N. Oracle Road on the southwest corner of W. Lester Street at N. 10th Avenue. (see map below)

THREE LOCATIONS TO SERVE YOU
As always, we are showing significantly more variety and quantity of products compared to last year. Another bonus is an enhanced focus on higher-end Gem Surfaces® and Gem Decor® offerings. This show, we will be featuring the Gem Gardens® Garden Decor® rough design line. Our main location boasts four impressive galleries, with the wholesale section, situated in our tent, covering the rear parking lot. Of course we still carry all of our traditional products! If you missed our gallery last year, please be sure to visit us this year! For your convenience, we have two [2] other locations - Kino Gem and Mineral Show, and Arizona Mineral & Fossil Show at Hotel City Center.

Click on the Links below to see what we have going on:
---
Our discount coupon will apply to purchases less than $500. The intention of the coupon is to offer a discount to those who buy a variety of products, yet spend less than $500. Larger wholesalers who have used our discount coupon in the past, will now become members of the Madagascar Minerals Club to enjoy even greater savings of 30-50%!!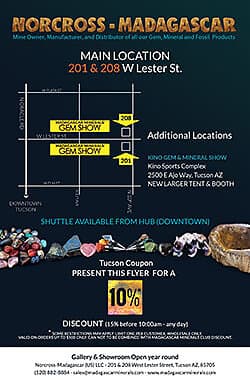 (Click on Coupon to enlarge for viewing and printing)
---
2. MAP TO MAIN LOCATION (201/208 W. Lester St.)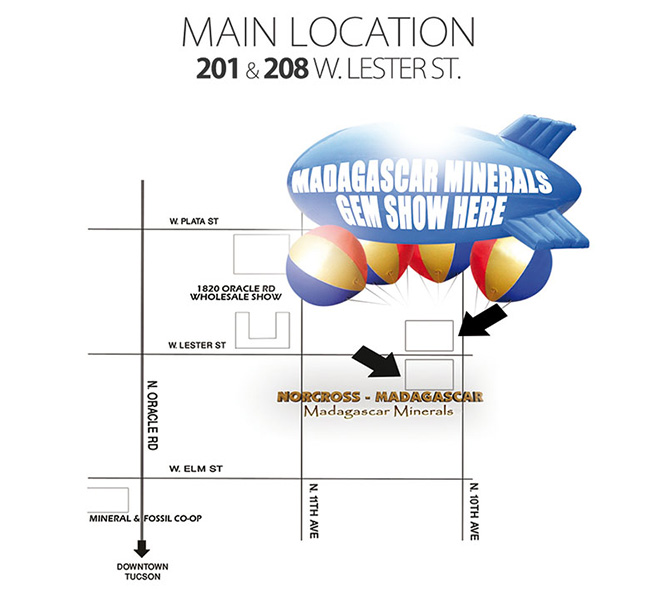 ---
Norcross-Madagascar Gallery and Warehouse, 201 W. Lester St, Tucson, AZ 85705.
We've Grown! Norcross has expanded the main location by an additional 14,000ft2 indoor space.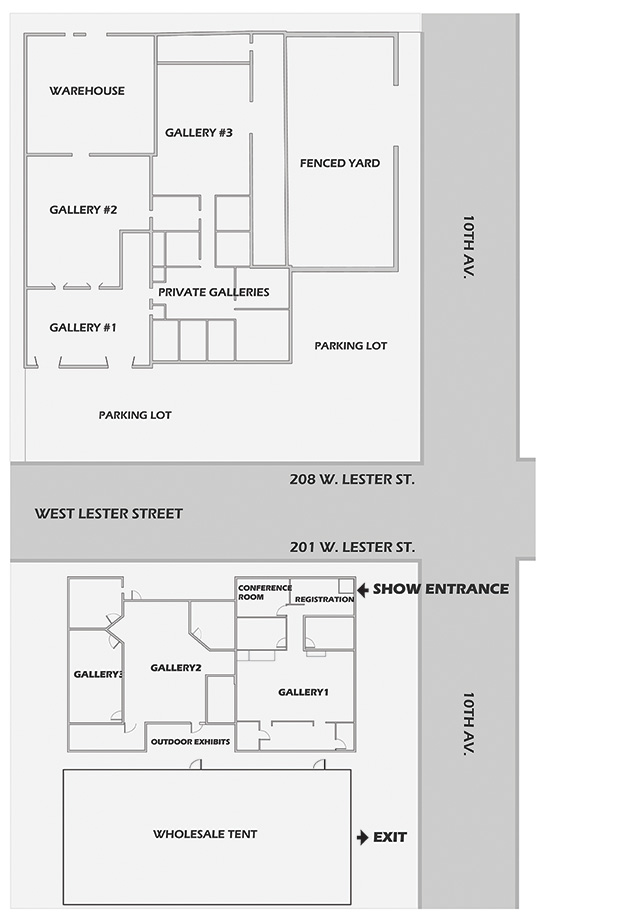 ---
4. SHOW INFORMATION
This year we are pleased to announce our upcoming Tucson 2017 Show lineup:

Main Location:
Jan 19 - Feb 12, 2018
Madagascar Minerals® Gem Show
Madagascar Minerals® Gem Show atNorcross - Madagascar Gallery and Warehouse
201 & 208 W. Lester St., Tucson AZ
*registration required at reception area in show entrance at 201 W Lester. St.
(Jump-start WED-THURS Jan. 17-18) -- 9am - 6pm
Jan 19 - Feb 12: 9am - 6pm (after-hours by appointment)
Show Information Line: 520.882.8884
We will have plenty of parking on location. Parking is designated on our boulevards on both Lester St. and 10th Ave. (see map above). There is lots of convenient street parking in addition to off street parking 208 W. Lester St. where there are over 40 spaces open.
10x more product, better value, and higher quality by far than available from all the show's Madagascar "middle-men" combined.

If driving, watch for our across-the-road banner connecting our 2 locations across Lester St.
The banner can be seen from Oracle Road, when you turn onto Lester St.
Large Madagascar Minerals Gem Show blimp or multiple multicolored balloons towering in the air above our location. The blimp/balloons should be readily visible from much of N. Oracle Road between W. Drachman Street and W. Grant Road, and from any of the surrounding shows in the Oracle Road Gem Corridor.

You cannot miss our location !
2nd Location:
Kino Gem and Mineral Show
Kino Sports Complex
South side of E. Ajo Way between S. Kino Parkway and S. Country Club Road
Jan 26 - Feb 11: 10am - 6pm (final day: 10am - 4pm)
Individual Tent

3rd Location:
Arizona Mineral & Fossil Show
Hotel Tucson City Center
Southwest corner of N. Granada Ave. at St. Mary's Rd.; 475 N. Granada Ave.
Jan 27 - Feb 10: 10am - 6pm (final day: 10am - 5pm)
Tent and boulevard area, located near the front entrance (lobby) of the hotel
---
AGATE PLAQUES, DRUZY AGATE & FOSSILIZED AGATE CORAL
BOTTLE STOPPERS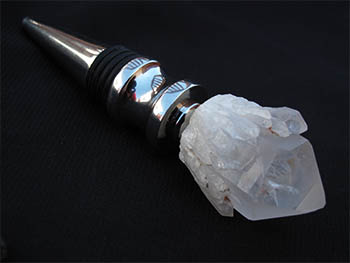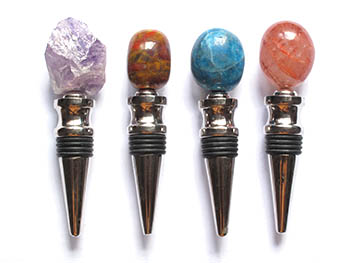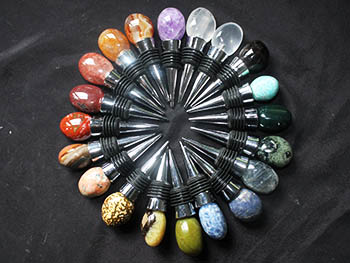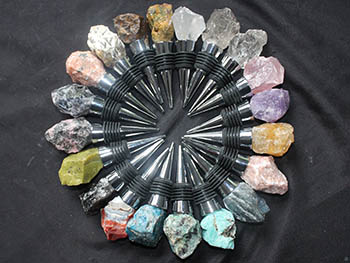 BOULDERS
TABLE TOPS
VESSEL SINKS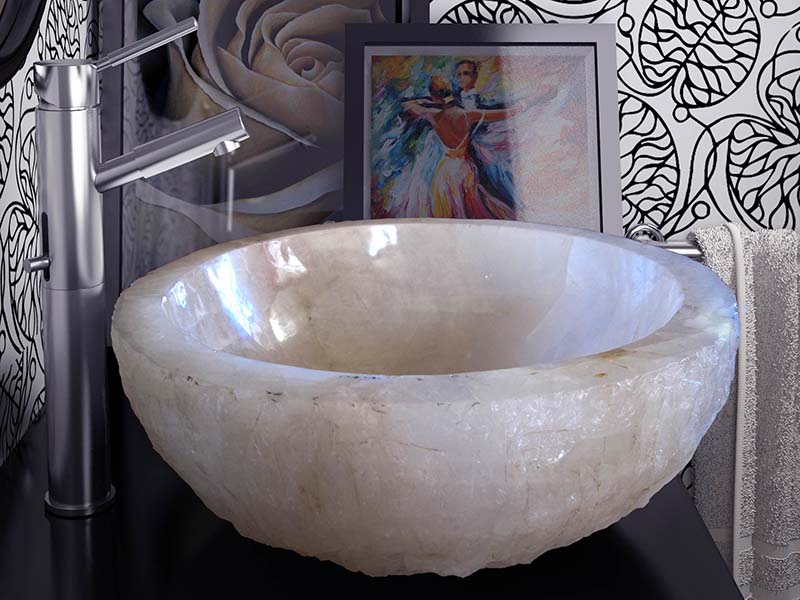 ---
***We try to maintain 50 tons of rough on-hand in Tucson, while keeping a minimum of 20-100 tons on-hand of each stone at our factory in Madagascar ready-to-ship anytime.
---
7. NEWS UPDATES - FOR 2018 NEWS go to our PRESS RELEASES PAGE

View more news updates
Click here to return to Index
---
8. VENDOR LIST
Norcross-Madagascar Group
Norcross-Madagascar (US) LLC
Norcross Exports Sarl (Madagascar)
Norcross Industrie Sarl (Madagascar)
Norcross Exploration Sarl (Madagascar)
Madagascar Minerals®
Gem Surfaces® LLC
Gem Decor®
Gem Gardens®
Madagascar Gem Rough SARL
Shaolin Gems
---
9. CONTACT INFORMATION
Norcross-Madagascar Group (NMG) USA
Gallery, Offices, and Warehousing
201 W. Lester St. Tucson, AZ 85705
Email: sales@madagascarminerals.com
Website: www.madagascarminerals.com
Phone: 520.882.8884
Norcross-Madagascar Group (NMG) Madagascar
Factory and offices:
factory visits by appointment only
Norcross Exports Sarl
Norcross Exploration and Exploitation Sarl
119 Ter, Villa Edna,
Faralaza, Talatamaty,
Antananarivo, Madagascar
PO Box 105 Ivato
Email: norcross@madagascarminerals.com
Phone: +261202244704