Madagascar Minerals Catalog
Our catalog is online!

It has our collection of 30 colored gemstone varieties and details our products: minerals and fossils, rough or polished.
Hand crafted items are from our factory in Madagascar, and the minerals and fossils are from our exclusive quarries.

Don't miss your free copy! See the PDF version online or download it (PDF size is 23.6MB and ZIP size is 21.9MB).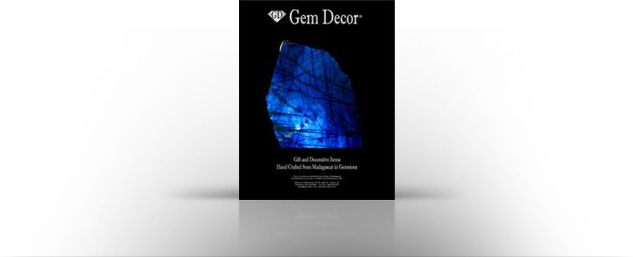 See inside it










Utilitarian Items

Bookends
Coasters & Bowls
Plates & Jewelry Boxes
Candle Holders & Massage Tools

Crafted Collectable Items

Leaf &, Fetish Animal carvings
Skull & Face carvings
Sunfish & Dolphin carvings
Bear Eating Fish carvings, Boulders, Flames &
Obelisks
Butterfly carvings & Hearts
Slices & Plaques
Gallets & Polished One Face
Spheres
Crystal Quartz & Celestites
Rough

Fossils

Petrified Wood Fossils
Ammonite Fossils
Copal, Bivalve & Sand Dollar Fossils

Furnishing Items

Sinks & Mirrors
Tabletops