Metaphysic of Rose Quartz, Physical properties of Rose Quartz
ROSE QUARTZ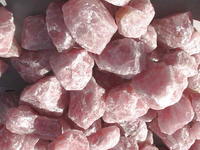 Rose quartz is a type of quartz which exhibits a pale pink to rose red hue. The color is usually considered as due to trace amounts of titanium, iron, or manganese, in the massive material. Some rose quartz contains microscopic rutile needles which produces an asterism in transmitted light. Recent X-ray diffraction studies suggest that the color is due to thin microscopic fibers of possibly dumortierite within the massive quartz.
In crystal form (rarely found) it is called pink quartz and its color is thought to be caused by trace amounts of phosphate or aluminium. The color in crystals is apparently photosensitive and subject to fading. The first crystals were found in a pegmatite found near Rumford, Maine, USA, but most crystals on the market come from Minas Gerais, Brazil.
Rose quartz is not popular as a gem - it is generally too clouded by impurities to be suitable for that purpose. Rose quartz is more often carved into figures such as people or hearts. Hearts are commonly found because rose quartz is pink and an affordable mineral.
Physical properties of Rose Quartz:

Stone Type/Family: Member of the Quartz family
Crystal System: Trigonal
Chemical Composition: (SiO2) Silicon Dioxide with iron and titanium inclusions
Hardness: 7
Color: Palest of pinks to deep lavenders and orchids
Location: Brazil, India, Madagascar, South Africa, US
Rarity: Common
Fun Fact: Rose quartz was once believed to be only found in massive form. The lack of finding Rose Quartz crystals was a curiosity because quartz crystallizes into well-formed crystals in all its other macroscopic varieties. Rose Quartz crystals are much more rare. So amazing are these Rose Quartz crystals that the first ones discovered were dismissed as fakes by mineralogists from around the world.


Metaphysical guide of Rose Quartz:

Primary Chakra: Heart, Higher Heart
Astrological sign(s): Taurus, Libra
Vibration: Number 7

Rose Quartz is the stone of unconditional love. One of the most important stones for Heart Chakra work, Rose Quartz opens the heart to all types of love - love of self, love of family, love of friends, romantic love. Because it is a type of quartz, Rose Quartz does have a high energy, but its vibe is also calming and soothing.

Rose Quartz opens the heart to compassion for self and for others, and raises self-esteem. Rose Quartz eases guilt and balances emotions, lowering stress and bringing peace. Use Rose Quartz to enhance positive self-affirmations.

The soothing energy of Rose Quartz fosters empathy, reconciliation, and forgiveness of others. Lowering stress and tension in the heart, Rose Quartz clears out anger, jealousy, and resentment of others, and allows healing of heart issues and dis-ease associated with holding on to such negative emotions.

Known as a romance stone, Rose Quartz can be used to attract love. Put a piece of Rose Quartz by your bedside table, or in the relationship corner of a room or home to attract new love or to add trust and re-commitment to existing relationships. Rose Quartz adds loving energy to relationships, bringing calm and peace. The comforting and soothing energy of Rose Quartz can also help heal a broken heart, allowing release of pent-up emotions and grief. Rose Quartz also helps release unexpressed feelings about others.

Rose Quartz allows the user to open to and accept love from others, and to recognize the unconditional love of the Universe. Use Rose Quartz to bring calm and harmony during times of increased stress or crisis. Rose Quartz may also be used to balance all of the chakras and to remove negative energy and replace it with love energy.
Physically, Rose Quartz is used to heal ailments of the thymus, heart, and lungs. Rose Quartz is also known to help heal breast cancer and is an excellent support stone for most other types of cancer as well.
Back to Metaphysical and Physical Guide

Sources:

Healingcrystals.com - Wikipedia.org
This information does not intend to serve as medical advice, cure any diseases, and should not be relied upon in your health-related decision making. This information is available to assist in expanding your understanding of prevailing beliefs in the metaphysical fields.

The Rose Quartz products that may help you