Press Releases
Madagascar news updates

- Still in revolution, violence increasing.
- US standpoint on the Crisis is affecting Malagasy's from being issued visas for the Tucson Gem and Mineral show.
Jan 2013 - Tucson upgrades
New larger warehouse structure to replace tent.
Our new warehouse allows us to double available Tucson inventory.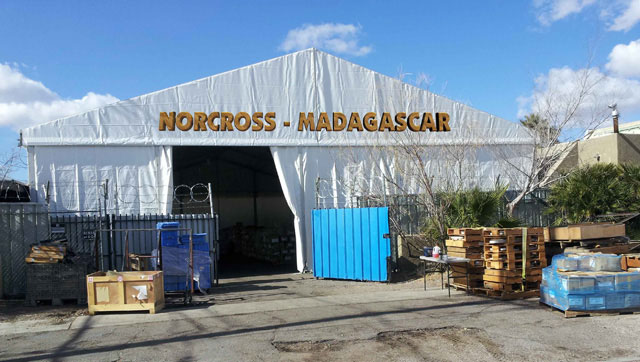 Jan 2013 - Peacock Blue Quarry Update

After the first year of production, worldwide marketing has begun at the largest trade shows in Italy and China.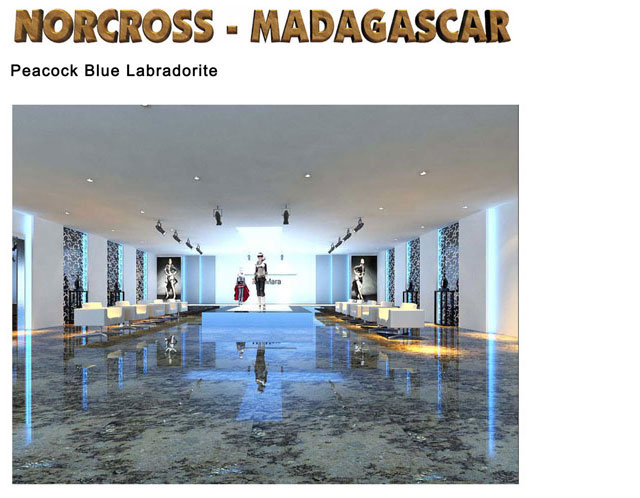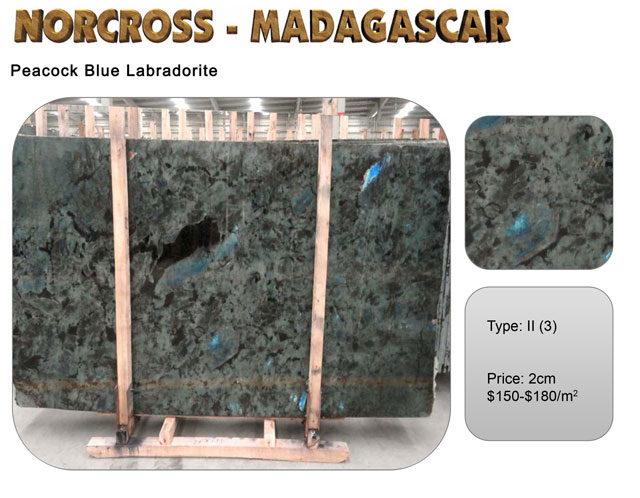 Jan 2013 - Madagascar factory upgrades focusing on automated machinery for high volume production

Within the next few years, NMG expect quadruple production though resource management and automation.
One of the key new areas of growth is in mass jewelry manufacturing. Another area of focus is granite block, slab and tile production.

Jan 2013 - Scottsdale Gallery Updates
Gem Surfaces® Scottsdale gallery manager Guy Paul has been nominated as a director on the board for the ASID (American Society of Interior Design) Arizona North Chapter.



Dec 2012 - Amazonite Mine Update



After a year of disappointing productivity, the NMG Amazonite quarry, one of the only active amazonite mines in the world, has regained its stride.
Cattle pirates attacked the NMG amazonite quarry village numerous times throughout the year. This unprecedented violence, and theft made production at the quarry impossible. In fact, several times miners witnessed attacks on the village from the quarry vantage point.



Oct 2012



Gem Surfaces® has been testing a second production line in Madagascar to compliment current production done in China.

July 2012 - Gem Decor®

Gem Decor® is pleased to announce its inaugural show, the Gift and Home show at the Las Vegas Market July 30 to Aug 3. For those attending the show or in the area, please come by and see us.




July 2012 Gem Surfaces® Scottsdale Gallery Update.



Gem Surfaces® is pleased to report a successful first year located within The Scottsdale Design Center. The gallery has hosted a number of events, and our sales reps have been participating most mixer events to help build relationships with local architects, designers, fabricators, and luxury home builders.

March 2012
NMG's block mine has added a 3rd level, and production has remained steady. The group is shopping around for another mining operator to take on the open and remaining half of the mine.
Jan 2012 - Gem Decor®

Jan 15, 2012 Gem Decor® NMG Group is pleased to announce plans to launch the Decorative, Design and Gift market branding of Madagascar Minerals® as Gem Decor® in the 1st quarter of 2012. Gem Décor's focus is on corporate gifts, large chain and or big box store supply, shopping television networks, along with gallery and e-commerce branding resellers.


Jan 2012 - Madagascar Minerals® Gem Show Update
Jan 18, 2012 Tucson Gem Show update Norcross-Madagascar is open and ready for business early at this year's Madagascar Minerals Gem Show in Tucson. Clients that find themselves in town early our encouraged to come by, and receive specials that will not be available during the regular show.
Oct 2011 - Labradorite Peacock Blue Block Quarry Update
NMG Group is pleased to announce early production at their quarry, near Maniry.
The quarry was opened in Aug 2011.
150 tons of blocks were trucked to the port of Tulear last week, with an estimated monthly production at 300 tons per month.
Aug 2011 - New Scottsdale Gallery

Gem Surfaces gallery is now open! We are pleased to invite designers, architects, fabricators and any other professional in the trade to our new Scottsdale gallery, displaying more than 100 gemstone slabs in stock.



July 2011 - Labradorite Mine Update


NMG Group is pleased to announce a 7-year term mining contract that was signed July 19, regarding their Labradorite claim, in Maniry. NORCROSS EXPLORATION AND EXPLOITATION SARL has agreed to a joint venture with a Chinese firm, YUAN SHI KUANG YE GONGSI SARL to develop the mine. The mine will produce very high quality dimensional blocks, which will be sold to luxury granite slab production companies throughout the world.


June 2011 - Amazonite Mine update

NMG Group is pleased to announce a 1-year mining exclusivity contact with a Chinese firm. This Chinese firm, has been a long-term strategic partner with the Norcross Group. NMG hopes that this deal will help open up the quarry to improve its production efficiency.
April 2011 - Gem Surfaces® newest gallery


Gem Surfaces is pleased to announce the opening of their newest gallery June 1, 2011.
The Gallery is located at 15125 N. Hayden Rd. Scottsdale, AZ 85260,
inside The Scottsdale Design Center , suite #108.
(South East Corner of Hayden and N.83rd Pl.)
The gallery will showcase more than 100 slabs on display, along with a few custom cut-to-fit applications, tiles, tabletops, and a variety of Gem Decor.
Jan 2011 - Garnet in Matrix Update

In July, the NMG Group acquired a famous a 40-year producing Garnet in Matrix Mine. The NMG group holds many garnet properties, but the significance of this mine is the fact that its overburden has long been removed, and the black granite and ore matrix outcrop is exposed. The plan is to produce large dimensional blocks from this Garnet in Matrix, and have the blocks cut into slabs for luxury granite and marble industry.
Once cut into large slabs, the polished product displays fantastic garnets (flat) in the black granite matrix (see pics).
Most of the garnets produced from this mine are Spessartite Garnets (Mandarin Orange Color). This mining claim is beside NMG's Zebradorite, Yellow Jasper, Chestnut Jasper (Red Jasper), and Rhodonite claims.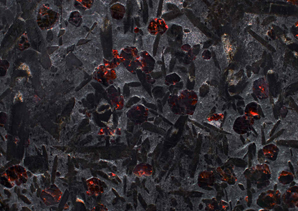 Jan 2011 - Petrified Wood update

NMG Group, the world's largest producer of Petrified Wood, is pleased to announce Petrified Wood Slices > 1m in diameter will be on display at all 5 locations at this year's Tucson Gem and Mineral shows and Madagascar Minerals Gem Show in Tucson. More than 100 large crated slabs will be on display and available for sale.

Jan 2011

Gem Surfaces is pleased to unveil plans to open a new Gallery and Slab distribution location in the Kierland - Airpark Design District of North Scottsdale, AZ.

Jan 2011

Gem Surfaces is pleased to announce plans to open a new Gallery and Slab distribution location in Guangzhou, China. Although Gem Surfaces has produced product in China for the last 6 years, this will be the first attempt at penetrating into the Chinese luxury market.
Archived News Updates on